European Waste Prevention Week: 3 Tips for Sustainable Fashion
If you want to wear the right T-shirt for every party and always follow the trends on Instagram and co., you either need a fat wallet – or buy cheap clothes. All too often, these "fast fashion pieces" end up in the trash as soon as the next trend announces itself. That's why the motto of this year's European Waste Prevention Week is "Sustainable textiles: reuse instead of waste!"
One sweater – seven bathtubs of water
The European Week of Waste Prevention (EWAV) aims to anchor the sustainable use of resources in public awareness through various actions. This year, the campaign takes place from November 19 to 27, 2022 – in Germany with a focus on the sustainable use of textiles.
The fact that we need to change our behavior when it comes to sustainable textiles is supported by figures from the Federal Environment Agency from 2019, according to which our textile consumption produces emissions of 135 kg of CO2 per capita. That is about as much as a car journey from Lake Constance to Flensburg. For one sweater, up to 805 liters of water flow from the tap, about as much as seven bathtubs.
The European Commission wants to counter this situation with a comprehensive EU strategy for textiles. It promotes the sorting, reuse and recycling of textiles. With these tips, you can make your own contribution to the sustainable use of textiles:
Tip 1: Class instead of mass
If you don't just look at the latest fashion trends, but also pay attention to the quality of the fabrics and workmanship, you will enjoy your favorite pieces for longer. If you buy fewer clothes, but high-quality and therefore durable items, you may have to dig a little deeper into your pockets at first, but you'll save money in the long run. In addition, timeless pieces that always fit are much more relaxed than always chasing the next hype.
Tip 2: Use quality labels as a guide
If you look for quality labels for textiles when shopping for fashion, you will not only protect our environment, but – depending on the label – you will also ensure fair working conditions in production. An initial guide is the "Organic Cotton" label, which stands for organic cotton quality. It can also be recognized by the text on the washing label "made from … % organically grown cotton". But the "Blue Angel", "EU Ecolabel", "Fairtrade" for cotton and textile production, "GOTS" or "Naturland" also provide orientation. The "Siegelklarheit" website also provides an overview of the jungle of labels.
Tip 3: Second hand and clothing exchange
A day at the flea market is not only fun, but also a good opportunity to find a new home for cast-off clothing. But browsing second-hand stores – both online and offline – also opens up the chance to stock your closet with beautiful individual pieces in a sustainable way. Apps like Vinted make it easy to sell your clothes online, and even big retailers like Zalando now offer second-hand sections. Last but not least, you can simply organize a clothing swap evening with friends, where everyone can clean out their closets and win new favorites.
Sustainability has style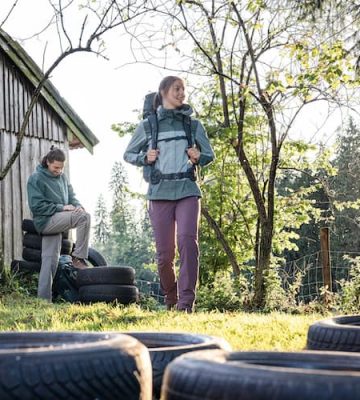 With its product design, the plastics industry contributes to a sustainable approach to clothing. Here you can find out, for example, how a new sneaker is made from plastic or how an old tractor tire is transformed into a pair of pants. There are also numerous companies that produce clothing from "ocean plastic. In this process, they collect plastic waste from the sea, clean it and shred it into plastic granulate – recyclate – and melt it into fine yarn.
In our society, clothing is not only an expression of individuality, but also a factor for the environment. Those who take the initiative themselves and pay attention to ecologically sustainable fashion and integrate second-hand fashion into their outfits not only protect the environment, but on top of that can cultivate an individual style just like that.
Bildnachweis: Headerbild ©VAUDE/Attenberger