How to get better?
participate
Efficient waste separation – properly separated is half recycled
Does the toothpaste tube actually belong in the yellow bin? Or in residual waste? Are you not sure? Don't worry, you're not alone. Many people sometimes decide based on instinct. Around 2.6 million tonnes of waste are collected in the yellow sack and the yellow bin in Germany every year. And about 30 per cent doesn't belong there in the first place, like alarm clock batteries, disposable gloves or a broken plastic bucket.
Everyone has been guilty at some point of what are known in the trade as 'misses'. However, we should definitely make an effort to separate properly, because this is the only way the recycling process can work. But how do you separate correctly?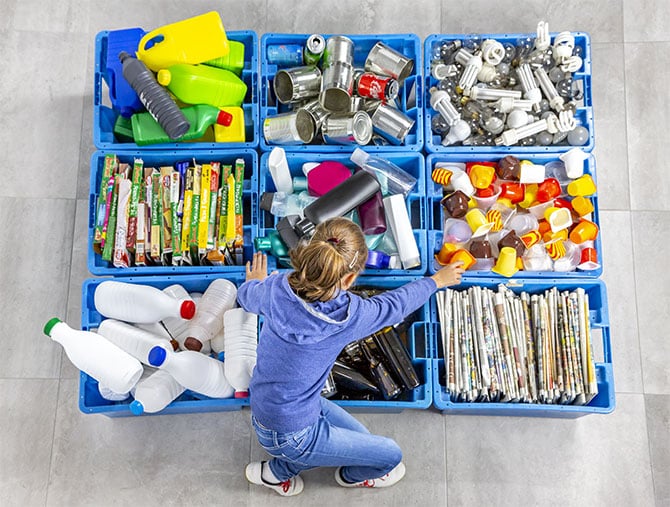 Lonely recycling flow seeks packaging
Almost all residual waste is incinerated. If you throw away packaging as residual waste, it is lost to the cycle forever, which is quite sad. Conversely, you must pay close attention to ensure that your residual waste does not end up in yellow sacks and yellow bins, as this puts effective recycling at risk. The sorting plants of the recycling companies are getting better and better, but they can be overwhelmed with too much residual waste.
The good in the pot, the bad in your crop
So where should we put the toothpaste tube? First think. What was the waste previously? Was there anything packed in it? Is it even made of plastic? If so, the yellow sack or yellow bin is the right choice. However, paper and glass packaging are different and are only really at home in waste paper or glass containers.
By the way, you should remove the old pasta leftovers from pizzeria take-away containers, as you should with all leftovers – but you don't have to rinse them out. One more thing. Don't stack packages inside each other, but break them down into their individual parts. Many are made of several types of plastic, like the flexible toothpaste tube and its hard cap. Both have their own recycling routes and need to be recognised by the sorting equipment.
Turning old into new
So. We've now disposed of our plastic packaging properly. What now? We'll tell you. It is further processed into plastic granulate, so-called recyclate. This will later be used in car parts, flower boxes or will become a toothpaste tube in the next life. This not only saves a lot of greenhouse gases and energy, but also valuable, non-renewable crude oil, which is normally needed in the manufacture of new plastic products, but which can now be replaced with recycled materials thanks to the recycling process.
We can easily do good by separating our waste correctly – because waste separation works. It's not that difficult, is it?
Photo credit: iStock.com/yulkapopkova, iStock.com/Jorgefontestad , iStock.com/shaunl