Food at the highest level – thanks to plastic
Whether vegetables, fruit, fish, meat or chocolate – many foodstuffs must be transported and stored in a refrigerated or at least temperature-controlled environment during their sometimes long journey. This applies to the entire journey of the product – from the producer to the supermarket and to us consumers. These so-called cold chains should not be interrupted. Corresponding laws regulate the handling in this sensitive area. If the cold chain is interrupted, this can lead to a loss of quality, a reduction in shelf life and the increased formation of germs, bacteria and other pathogens. Fiber-reinforced plastics (FRP) ensure that our food – whether crisp apples, milk or frozen pizza – stays fresh.
Plastics enable food refrigeration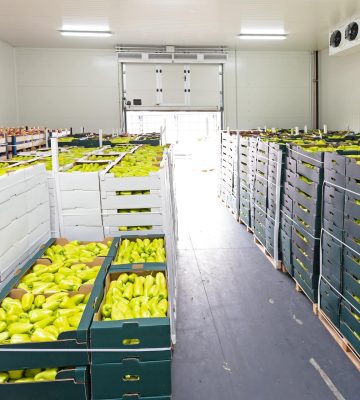 Composites can be found, for example, as top layers or wall elements in storage and processing rooms, refrigerated warehouses, refrigerated containers, refrigerated bodies, refrigerated trailers of trucks and in refrigerated shelving. Applications can be found along the entire transport logistics chain. The advantages are clear: The installed panels have very clean and smooth surfaces. This simplifies cleaning and ensures the highest hygienic standards. At the same time, the products are very light and stable. This makes transport efficient as well as fuel-saving and protects against mechanical stress, for example in the container area. In addition, composites are extremely durable. They are resistant to UV exposure and weathering and do not rust. Maintenance intervals can therefore be extremely generous. All this saves CO2 emissions without having to use large blocks of ice for cooling – as was the case 50 years ago.
Repair and recycling – the first choice for composites too!
If something does happen, the components can also be repaired. But one of the most important things is that composites have very good thermal insulation properties. This enables storage and transport at constant (low) temperatures and is energy efficient. This means that the goods remain cooled for a long time with less energy input.
In addition, there are already a variety of ways to utilize the very high intrinsic value of the materials beyond the initial product life cycle. These include use as a substitute fuel and material substitute in the cement industry, but also thermal and chemical processes for recovering the fibers in particular, and in some cases also the plastics.
Composites – a sustainable solution
Composites themselves also deliver high added value in terms of sustainability, both in their use phase and beyond. This is also evidenced by the composites recycling study prepared by IKK Institute Director Professor Hans-Josef Endres and Dr. Madina Shamsuyeva with the support of industry representatives from the AVK Expert Working Group.
The construction of modern wind turbines, for example, is not possible without fiber-reinforced plastics, as both the rotor blades and the nacelles are made of these materials. Even though the construction of these plants consumes a lot of energy, wind turbines generate the amount of energy that was required for their manufacture after only a few months in operation.